Biography of Governor Judy Martz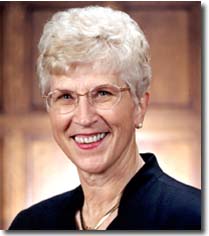 Judy Martz was elected as Montana's first female Governor on November 7, 2000. Just four years earlier, she was elected as the state's first female Lieutenant Governor when she ran with Governor Marc Racicot.
Since taking office in January, Governor Martz has tackled many tough issues head-on. Her priorities include retaining and creating good paying job opportunities for all Montanans, addressing appropriate tax reform policies in the state, and improving the education funding system for Montana's public schools. Her goal, to ensure that Montana is 'open for business', is carried into action by dedicated cabinet and staff members who share these priorities.
Governor Martz recognizes that one of the most important jobs of the state's chief executive officer is to manage the state's financial affairs. During the 2001 Legislative Session, she held the line on over $100 million in new spending to manage the state's budget in a fiscally responsible manner. This commitment is already paying off. While the state will be faced with addressing a budget deficit in the next legislative session, due to the commitment of the Governor and the State Legislature, Montana's deficit is much smaller than that of many other states. In addition, while many states have received a lower rating for issuing state bonds, in 2002, Montana received the second-highest bond rating available to states from both Standard & Poor's and Moody's - the nation's largest rating agencies.
To move forward her economic development initiatives, Governor Martz created the Office of Economic Opportunity during the 2001 Legislative session. This office is tasked with promoting Montana businesses, attracting complimentary businesses to the state, and developing Montana's workforce for better paying jobs.
Governor Martz was born July 28, 1943 in Big Timber Montana, to ranching parents. She graduated from Butte High School in 1961, and attended Eastern Montana College. She was a member of the 1963 U.S. World Speed Skating Team, and a member of the U.S. Olympic Speed Skating Team at the 1964 Winter Games.
Governor Martz worked as a field representative for U.S. Senator Conrad Burns from 1989 to 1995. She has been civically involved for years, serving as President of the Butte Chamber of Commerce in the early 1990's, and vice-chair of the St. James Hospital Board of Directors. For more than 30 years, she and her husband, Harry Martz, have owned and operated a commercial solid-waste business in Butte. As a small business owner, she became actively involved in local and statewide economic development issues.
She and Harry were married in 1965, and have two grown children.

This link will take you to a high resolution photo of Gov. Judy Martz. Right click on the photo to download it to your computer. The file is 1008 KB