Biography of Lieutenant Governor Karl Ohs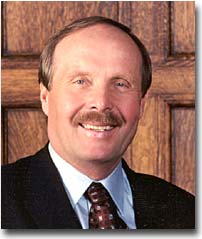 Lieutenant Governor Karl Ohs is widely known for his role in peacefully ending the Freeman standoff near Jordan, Montana. In 1996, at the request of the FBI, he served as principal negotiator, making 19 separate trips into the Freeman compound. His involvement earned him the 1998 Lou Peters Award given by the FBI for public service. Lieutenant Governor Ohs served in the Montana House of Representatives in 1995, 1997 and 1999. During the 1997 and 1999 sessions, he served as the Majority Whip.
The son of a Swedish immigrant, Lieutenant Governor Ohs was born November 18, 1946 in Havre and grew up in Phillips County, graduating from Malta High School. He studied agricultural economics at Montana State University-Bozeman and left just months away from obtaining a degree to return to help on the family ranch when his father broke his leg. The family later moved the ranching operation to Harrison, where he and his wife, Sherri, still ranch today.
In 1988, Lieutenant Governor Ohs founded and became chairman of Montana Agricultural Producers, Inc., a co-op for producing and marketing alternative crops. Since 1996, he and his wife have owned and operated several small businesses in southwest Montana. He served on the Harrison school board from 1974 to 1983, including four years as chairman.
Currently, Lieutenant Governor Ohs serves as Chairman of the Governor's Drought Advisory Committee, Chairman of the Governor's Corrections Advisory Council and is the Chairman for the National Lieutenant Governors Association.
Lieutenant Governor Ohs has four children: Brad, Eric, Brian and Elizabeth from his previous marriage; his wife Sherri has four children from her former marriage.

This link will take you to a high resolution photo of Lt. Gov. Karl Ohs. Right click on the photo to download it to your computer. The file is 782 KB