Biography: Lt. Governor John Bohlinger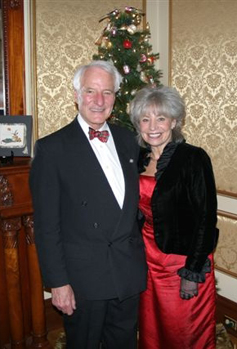 On November 2, 2004, John Bohlinger was elected as Montana's Lt. Governor. Brian Schweitzer became the 23rd Governor of the great state of Montana on January 3, 2005.
John was born in Bozeman on April 21, 1936, to parents John and Aileen Bohlinger. In 1941, John, his sister Tina, and their parents moved from Bozeman to Billings. His parents opened a women's apparel store called Aileen's, which would become a beloved fixture of downtown Billings.
John attended Billings Senior High School, and enlisted in the United States Marine Corps Reserve during his senior year. After graduation, he attended the University of Montana, but was called to active duty in the Marines between his sophomore and junior year. John completed his service in the Marines with an honorable discharge, returned to the University of Montana, and earned a degree in business.
John returned to Billings and went to work in his family business. He married Bette Cobetto, and together they raised a family of six children.
During his 33-year career as a small businessman, John also worked for many community organizations in the Billings area. He was a member of the Board of Directors of the Billings Chamber of Commerce, First Interstate Bank West, Yellowstone Boys and Girls Ranch, and the Billings Studio Theater. John served as Chairman of the Board of Directors of the St. Vincent de Paul Society, the St. Patrick's Catholic Church Parish Council. He also has served as president of the Board of Directors of the Yellowstone Art Museum and president of the Billings Symphony. He is currently a member of the Helena Rotary and Helena Cathedral.
John is also a veteran of the Montana legislature. First elected in 1992, John was elected to three terms in the house and two terms in the Montana Senate. He resigned his seat in the Senate to serve as Lt. Governor in January, 2005.
On January 9, 2006, after a courageous fight, Bette Bohlinger lost her second battle with cancer.
John married business woman and philanthropist Karen Seiler at St. Helena's Cathedral during the evening mass on January 12, 2008. John and Karen share the same faith, values and hope for the future.